Main content starts here, tab to start navigating
Menus
Winter 2020 Restaurant Week Menu
FRIDAY FOOD & BEVERAGE
No food or beverage minimum for parties of 9 or less.
This Fall enjoy "Sips & Bites" Four food appetizers and one bottle of house wine (red or white) or a bottle of house bubbly for $100, plus 10% DC Tax and 22% Service Charge.
* May exclude some food items
SATURDAY FOOD & BEVERAGE
$75 per person food and beverage minimum and the show
exclusive of tax and service charge
10% DC Tax and 22% Service Charge Added To All Checks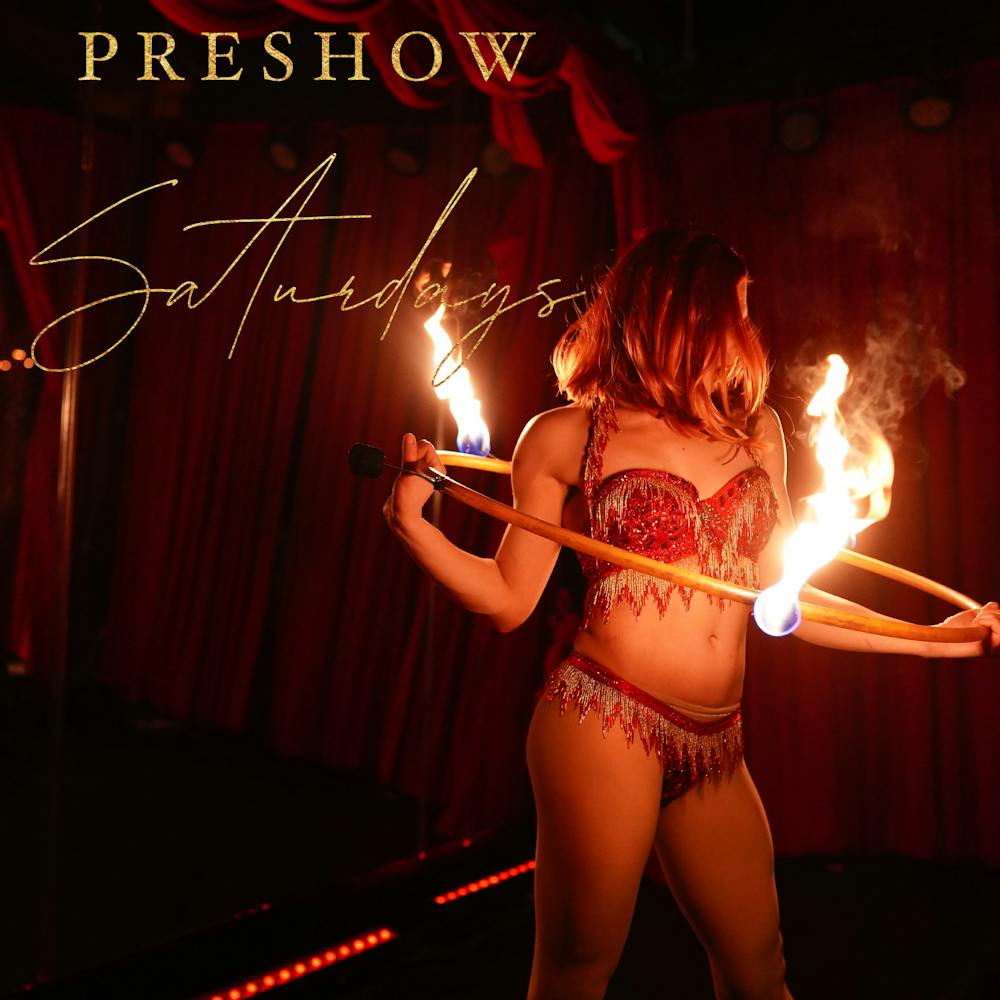 Book a reservation between 6pm-7pm on Saturdays using code PRESHOW, to receive a complimentary bottle of house wine, prosecco or two food appetizers and waived minimum per person until Labor Day.
* Saturdays only and may exclude some food items
* One code/offer per table, per night. Can not be combined with any other offer, code, coupon or deal. NOT AVAILABLE DURING RESTAURANT WEEK
BILLING FOR ALL TABLES
Strict (2) two hours time limit applies to all tables; Please advise wait staff of special dietary requirements or allergies. 22% Service & Entertainment Charge Added to all checks; One check per table; Bill can be split on (4) cards maximum.
Starters
Truffle Fries

Roasted Garlic Aioli, Ketchup

$12

Gorgonzola & Cheddar Fondue

Gorgonzola | Cheddar | Fontina | Tenderloin | French Baguette Cubes

$20

Caesar Salad

Romaine Lettuce, Parmesan, Croutons

$12

Lobster Crab Mac n Cheese

Fontina | Gruyere | Cheddar | Smoked Gouda

$18

Grilled Shrimp

Espelette Pepper | Garlic Brown Butter Sauce | Grilled Bread

$16

Blackberry Mesclun Mix

Apples, Fennel, Pistachio, Blue Cheese, Balsamic Vinaigrette

$12

Ricotta Crostini

Housemade Ricotta, Candied Pecans, Wild Flower Honey

$10

Butternut Squash Soup

Pumpkin Seeds, Crema Fraiche

$10

Roasted Cauliflower and Swiss Chard

Garlic, Peppadew-Tomato Sauce

$10

Fried Parmesan Brussel Spouts

Parmesan, Caesar Dressing

$12

Crab Cake

Cole Slaw, Piquillo Pepper Vinaigrette

$14

* The Better Calamari

Peppadew -Tomato Sauce

$14

Broiled Oyster

Swiss Chard, Brown Butter Hollandaise

$18

Tuna Tartare

Korean Chili Vinaigrette, Pickled Watermelon Rind, Lotus Chips

$12
Sides
Sauteed Spinach

$9

Mashed Potatoes

$9

Butternut Squash Puree

Golden Raisin-Brown Butter Sauce

$10
Chef's Creations
Pan Roasted Salmon

Bok Choy, Mashed Potatoes, Caper Lemon Butter Sauce

$33

Seared Scallops

Butternut Squash, Brussel Sprouts, Golden Raisin- Brown Butter Sauce

$36

Chilean Sea Bass

Orange Gremolata, Sunburn Squash, Pattypan Squash, Whipped Artichoke

$38

Pan Roasted Chicken

Spatzel, Wild Mushrooms, Fava Beans, White Wine Butter Sauce

$31

Artichoke Ravioli

Spinach, Roasted Tomato, Garlic Puree, Crispy Artichoke

$26
From the Grill
New York Strip Steak Oscar Style

Asparagus | Crab Meat | Hollandaise Sauce

$48

Lamb Chops

Spatzel | Wild Mushrooms| Fava Beans | Peach Jus

$38

22oz Dry Aged Bone-In Ribeye

Dry Aged Rendered Beef Fat, Roasted Garlic

$52

22oz Dry Aged Bone-In Cajun Ribeye

Dry Aged Rendered Beef Fat, Roasted Garlic

$54

Chimichurri Steak Frites

Chimichurri, French Fries

$35

Hollandaise Steak Frites

Brown Butter Hollandaise Sauce, French Fries

$36

Classic Filet Mignon

Herb Butter, Roasted Potatoes

$40

Gorgonzola Filet Mignon

Gorgonzola, Roasted Potatoes

$42
Desserts
Chocolate Fondant Crunch Cake

Layers of Cocoa | Hazelnut Cream | Chocolate Cream | Hazelnut Crunch | Chocolate Glaze

$12

Lemon Blueberry Crumb Cheesecake

Lemon Cheesecake | Blueberries | Brown Sugar Crumbs | Cookie Crumbs

$9

Tiramisu

Espresso Drenched Ladyfingers | Mascarpone Cream | Cocoa Powder

$9
Vodka
Belvedere

$300

Belvedere Magnum

$600

Ciroc & Flavors

$395

Ketel One

$275

Tito's Handcraft (gluten free)

$275

Stolichnaya & Flavors

$200

Grey Goose

$325

Grey Goose Magnum

$650
Tequila
El Jimador Silver

$275

Patron Silver

$375

Don Julio Blanco

$350

Don Julio 1942

$750

Patrón XO Café

$275

Patrón Platinum

$750

Avión Silver

$300

DeLeón Platinum

$425
Gin
Bombay Sapphire

$300

Tanqueray

$275

Hendrick's

$325
Rum
Bacardi

$275

Captain Morgan

$300

Malibu

$275

Myer's Dark Rum

$275
Whiskey
Bulleit & Bulleit Rye

$300

Jack Daniels

$275

Knob Creek

$325

Makers Mark

$300

Crown Royal

$300

Jameson

$275

Fireball

$275
Scotch
Chivas Regal 12 year

$325

Johnnie Walker Black

$375

Johnnie Walker Platinum

$595

Johnnie Walker Blue

$695

Macallan 12 year

$400

Macallan 18 year

$695

Glenlivet 12 year

$375
Champagne
Armand de Brignac "Ace of Spades"

$1,000

Armand de Brignac "Ace of Spades" Magnum

$2,500

Armand de Brignac "Ace of Spades" Jeroboam

$5,500

Dom Pérignon Vintage

$550

Dom Pérignon Luminous

$600

Dom Pérignon Rosé

$1,200

Moët Imperial

$150

Moët Imperial 1.5L Magnum

$300

Moët Imperial Rosé

$200

Moët Imperial Rosé 1.5L Magnum

$400

Moët Nectar Imperial

$165

Moët Nectar Imperial 1.5L Magnum

$350

Moët Nectar Imperial Rosé

$250

Veuve Clicquot Yellow Label

$200

Moët Nectar Imperial Rosé Magnum

$550

Veuve Clicquot Yellow Label 1.5L Magnum

$400

Perrier-Jouët Nuit de Blanche

$175

Perrier-Jouët Nuit de Blanche Rosé

$200

Perrier-Jouët Epoque Rosé

$650

Kenwood Yulupa Cuvée Brut

$125
Cognac
Grand Marnier

$325

Hennessy VSOP Privilege

$550

Hennessey VS

$395

D'ussé VSOP

$425

Remy Martin 1738

$350

Remy Martin VSOP

$500

Remy Martin XO

$750

Remy Martin Louis XIII

$7,000
Packages
Package 1

2 Belvedere | 1 Kenwood Yulupa Cuvée Brut

$500

Package 2

3 Belvedere | 2 Kenwood Yulupa Cuvée Brut

$750

Package 3

2 Grey Goose | 1 Kenwood Yulupa Cuvée Brut

$600

Package 4

3 Perrier-Jouët Nuit Blanche

$500

Package 5

1 Kenwood Yulupa Cuvée Brut | 1 Patron Silver | 1 Grey Goose

$650

Package 6

2 Kenwood Yulupa Cuvée Brut | 1 Patron Silver

$650

Package 7

5 Moët Nectar Imperial Rosé

$1,000

Redbull

6-pack

$36

All tables are subject to a 22% svc fee